The window page is a sub-page of Preferences Dialog. This window page helps you to configure the display options of the WinFTP Pro software window.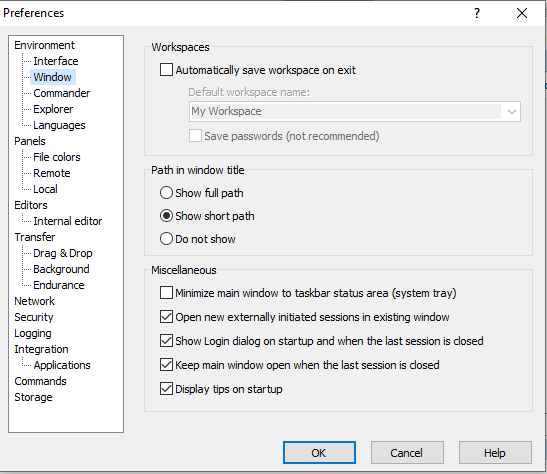 For further details, please refer to the following details and documentation of window page sections-
Workspaces
Path in Window Title
Miscellaneous
Workspaces
On the exit checkbox, you can see an Automatically save workspace option, which enables the automatic saving of workspace.
You need to specify or select the workspace name in the default name box of the workspace. It will allow you to save automatically when there is not opened workspace.
Check the option "Save Passwords" if you want to save the passwords for the ad hoc sessions when the workspace is saving automatically.
Path in Window Title
You can also have the current path shown in the main window caption and on the taskbar button.
You will only see the last component of the last path as default, (option – Show Short Path).
Also, you can have the "Show Full Path" (option show full path) of hiding all these together (Use the option do now show).
The panel is shown only in the Commander Interface path of the active file panel.
Miscellaneous
The checkbox "Minimize the main window to taskbar status area" can switch between the minimization to the taskbar and the taskbar status area (also known as the system tray).
This particular option can affect the main windows of the WinFTP Pro software and also its console window.
In the existing window, you will find a checkbox "Open new externally initiated sessions", which controls the extremely opened session (if you are using the desktop shortcuts, jumplist, and command lines) is open is the existing window or the new window (i.e. existing or new instance of WinFTP Pro).
You can always select the alternative mode, by holding down the shift key while you are opening the session.
If you want, to show the login dialog when the previous/last session was closed or on the startup, the closed checkbox always controls if the login dialog is shown automatically when you start the WinFTP Pro software or when you close the last/previous session.
The checkbox "Keep the main window open when the last session is closed" can control whether the application should be closed after the login dialog, which opens automatically along with the last closed session, which has been canceled without opening the new session.
You will find the display tips under the startup checkbox, which controls if WinFTP Pro displays the new usage tips on the startup.
For this, you will be required the automatic checks for the application updates, which are enabled to allow WinFTP Pro to retrieve the new tips.